Die Kärnten Card – your ticket to vacation happiness
Experience even more moments of happiness
Get to know the diversity of fauna & flora in nature and animal parks. Walk in the footsteps of history in Carinthia and gain interesting cultural impressions in over 40 museums. Get high on top of the mountains with the Carinthian mountain railroads or get an adrenaline kick in the forest rope park on the Pyramidenkogel or in the Jumpworld.ONE. With the Kärnten Card you will find more than enough opportunities to experience unforgettable moments of happiness during your vacation. The guest card is valid in more than 100 leisure & excursion destinations and you receive great discounts and benefits from over 50 bonus partners with the Kärnten Card.
Mountain railroad. Boat trip. Nature experience. Cultural excursion
The offer is even more appealing due to its affordable all-inclusive price. The Kärnten Card offers you more vacation happiness for less money. Weekly or seasonal cards are available before you start your vacation and can be conveniently printed out from home and brought with you.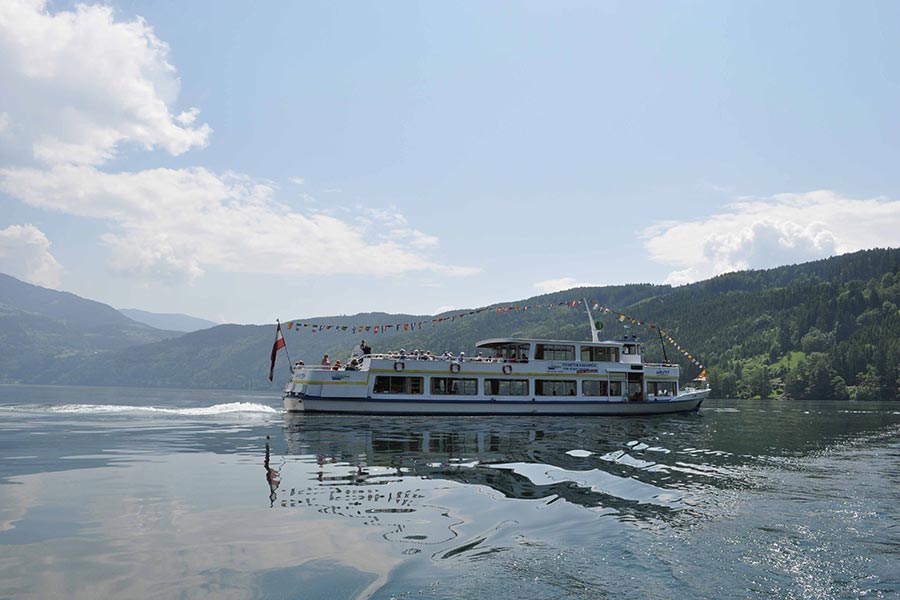 Over 60 bonus partners with great discounts
4 super bonus partners with 50% discount
Mountain railroads e.g. Goldeck Bergbahnen, Panoramabahn & Nocky's Almzeit
Adventure pools around Lake Millstätter See
Leisure & adventure offers e.g. 3D-arch parcour, Familywald, Goldgräberdorf, climbing park, root park, show mine
Boat trips: Lake Millstatt, Lake Drauschifffahrt Villach-Faakersee, Lake Ossiach
Museums throughout Carinthia
Zoo & animal experiences e.g. alpine game park, eagle arena, adventure monkey mountain, donkey park, reptile zoo, animal park
Nature experiences & panoramic roads, e.g. Nockalm Road
Price Information
Get your Kärnten Card at top prices. At the tourist office Millstatt - only 200 m away from the hotel - you can purchase the activity card for different periods of validity.
Pre-Season 1. April – 3. Juni 2023
1 Week
€ 52,- for Adults
€ 27,- for kids
2 Weeks
€ 66,- for Adults
€ 34,- for kids
5 Weeks
€ 76,- for Adults
€ 39,- for kids
Main Season 4. Juni – 09. September 2023
1 Week
€ 58,- for Adults
€ 31,- for kids
2 Weeks
€ 73,- for Adults
€ 38,- for kids
5 Weeks
€ 79,- for Adults
€ 41,- for kids
Post-Season 10. September – 5. November 2023
1 Week
€ 52,- for Adults
€ 27,- for kids
2 Weeks
€ 66,- for Adults
€ 34,- for kids
5 Weeks
€ 76,- for Adults
€ 39,- for kids
Kids:
There are reduced rates for children (born 2008-2016). Younger children accompanied by parents or grandparents who have a valid Kärnten Card receive a free children's card and visit the excursion destinations for free. The Kärnten Card is free for children under 6 years and from the 3rd child! Attention: The 3rd child rule is only valid at the marked points of sale!
All prices include VAT and other taxes and surcharges (gross prices).
Adress Tourist Information Millstatt:
Kaiser-Franz-Josef-Straße 49
9872 Millstatt, Austria
Telephone: +43 4766 37 00 339
Opening Times: Monday to Friday 8 am - 12 pm
Find more information here.
Discover & Enjoy3, 5 or 7 nightsfor 2 people
Booking date
Thu, Mar. 28. 2024 -
Wed, May 29. 2024
Booking date
Thu, May 30. 2024 -
Thu, June 13. 2024
Booking date
Fri, June 14. 2024 -
Thu, July 11. 2024
Booking date
Fri, July 12. 2024 -
Sat, Aug. 24. 2024
Booking date
Sun, Aug. 25. 2024 -
Sat, Sep. 21. 2024
Booking date
Sun, Sep. 22. 2024 -
Sat, Nov. 2. 2024
6 booking dates available
Varied summer vacation in Carinthia
Enrich your summer vacation in Carinthia with cultural experiences and visits to sights. But above all, the region of Lake Millstätter See invites you to wonderful activities on the lake and in the mountains. Your vacation can start soon - send a non-binding inquiry or book your next dream vacation in beautiful Carinthia directly online!