Advent at the Seeglück Hotel Forelle
Advent Highlight 2023 - Path of Lights
Experience special moments of bliss during Advent on Lake Millstätter See, where seas of lights brighten up the night and magical moments light up your eyes in anticipation of Christmas Eve. Take a walk along the "Millstätter Lichterweg" in Advent and discover the glitter of lights and Christmas magic at every turn, all around the lake shore. Stroll through the lively town centre, along the peaceful lakeside, through snow-covered landscapes while artistic lights show you the way to the individual stations of the "Millstätter Lichterweg" and lead you to our Seeglück Hotel.
A break at the Lichterweg in our Seeglück Hotel Forelle
Take a short rest on your journey around Lake Millstätter See and warm up with champagne & hotpot in our Seeglück Hotel before continuing on your way. Every day from 3.12.2023 to 6.1.2024 between 12:00 and 16:00 we warmly welcome all guests in our home of time-out at the lake and invite you to a contemplative get-together.
Lichterweg Station at the Forelle
On weekends our Seeglück Hotel becomes a Christmas craft room! From 3pm to 6pm, as part of the Advent Trail, you can take part in making door wreaths in our house with hot chocolate & delicious biscuits (at an extra charge). And if you particularly enjoyed it, you can also buy the delicious Christmas biscuits to enjoy at home.
The Christmas door wreath making will take place at Seeglück Hotel Forelle on the following dates:
08./09./10.12.2023
15./16./17.12.2023
22.12.2023
29./30.12.2023
05./06.01.2024
The Happiness of the Sea in Advent
...is everywhere! Not only right inside our house, but also in the whole region and entire Carinthia, there is more than one opportunity to be charmed by the glow of lights & Christmas magic.
Advent at Lake Millstätter See in Austria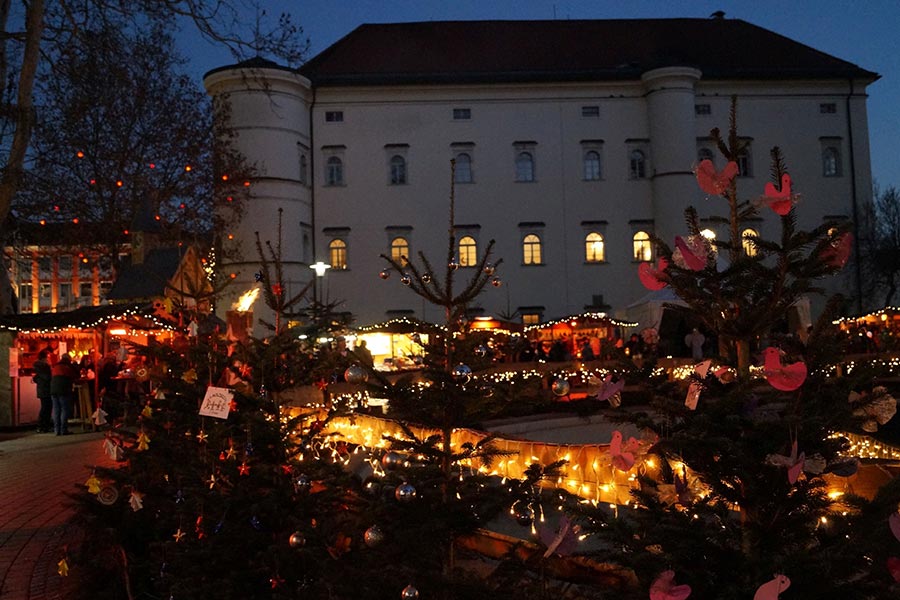 Experience a traditional Advent in Carinthia
From November onwards, the quietest time of year begins to settle over the land. Lake Millstätter See and its holiday villages make a tranquil backdrop to the Advent season at the lake and add to the magical atmosphere. Take a stroll along the lakeside promenade, visit the Advent market on the lake or let Christmas concerts put you in the mood for the season. Enjoy some lakeside bliss this Advent!
Advent customs in the Forelle
At the Forelle, we also celebrate Advent – after all, it is the perfect opportunity for making time for togetherness and indulgence. Every year in Advent, we invite our guests to make themselves at home over a cup of tea in the Seepavillon, with a view of the lake, and to listen to Christmas stories, interspersed with stimulating conversation and laughter. This has become an Advent tradition at the Forelle.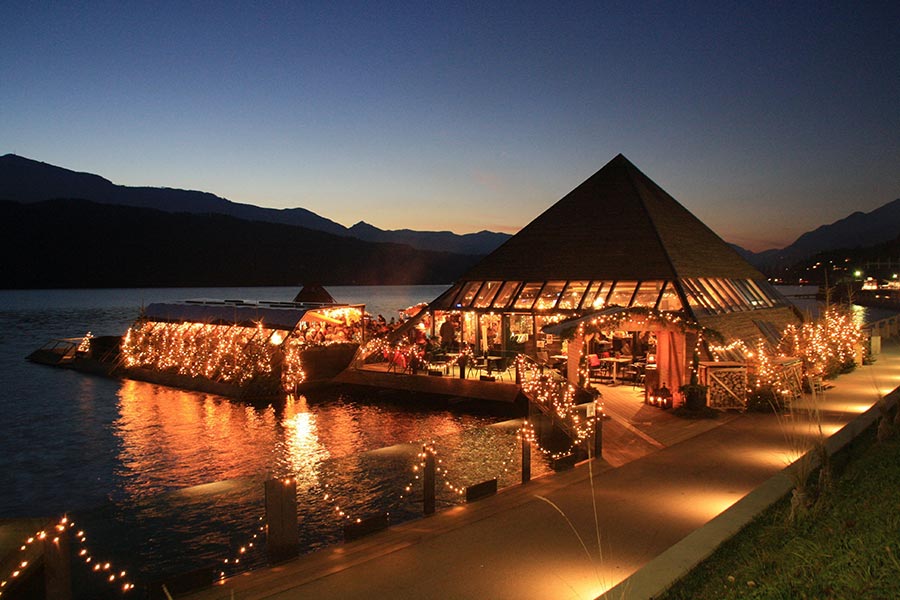 Floating light terrace in Carinthia
Not far from the Seeglück Hotel Forelle, a magical world of lights and fragrances awaits on the Christmas terrace on the lake. This large, floating platform is home to the Café-Bistro, the Kap 4613, and is a romantic and cosy spot where you may enjoy mulled wine, "Ritschert", hot sandwiches, baked apples and other seasonal delights, while open fireplaces spread delightful warmth. Enjoy the unique winter landscape in this wonderful setting!
Advent and Christmas customs in Carinthia
In Carinthia and throughout the Alps, Christmas comes with its very own customs and traditions. Every village organises nativity plays, "Perchten" and "Krampus" runs that bring regional customs to life. For an extensive collection of Alpine, eastern, and local nativity scenes, visit Porcia Castle.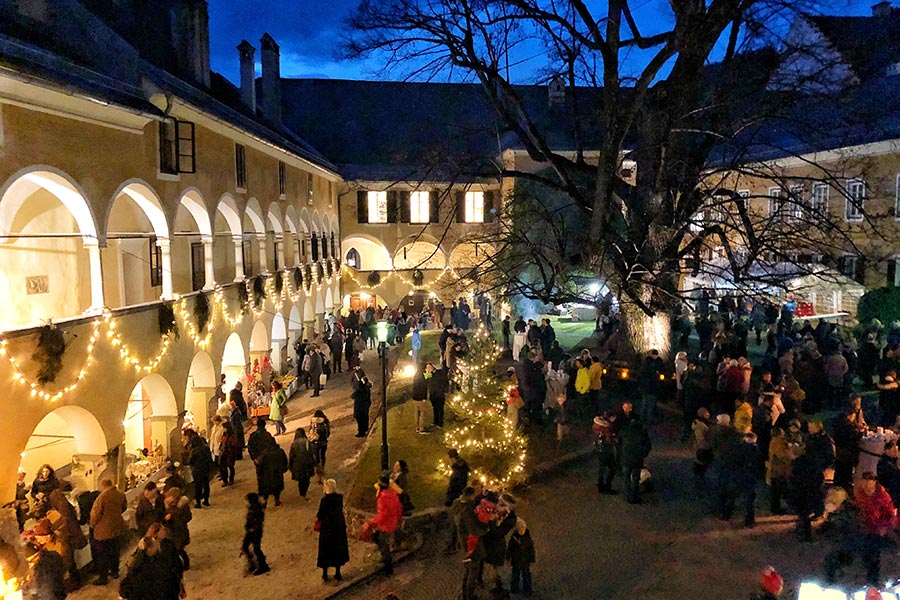 Other Advent markets around Lake Millstätter See
To get more of an idea of what Advent in Carinthia is all about, visit the Christmas markets in Spittal an der Drau and in Radenthein. In Spittal, the Stadtpark next to historic Porcia Castle is turned into an enchanting Christmas scene every winter, with arts and craft from the region, Christmas concerts, culinary highlights and an extensive children's programme inviting you to browse and linger.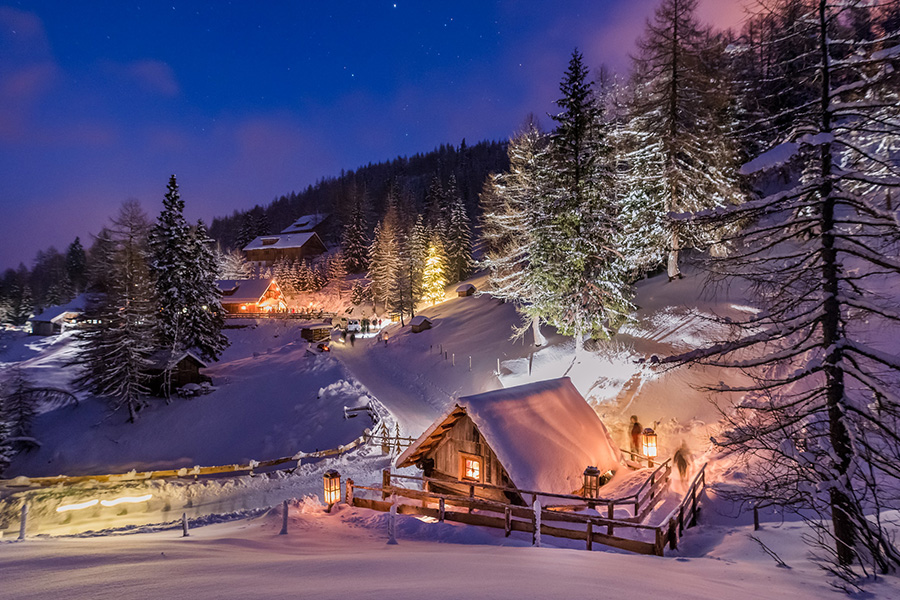 Katschberger Adventweg
A wintry hike along the Katschberg Advent Trail is a Christmas experience of a special kind for young and old. Only a 30-minute drive from our Seeglück Hotel Forelle, an unforgettable hiking trail awaits you in the middle of the mountain idyll on the Katschberg. Enjoy the special Advent magic without unnecessary glitter or frills as you walk through the snow-covered landscape along the falcon-lined path. Simply immerse yourself in the winter nature and experience a feeling of Christmas as it was in the old days...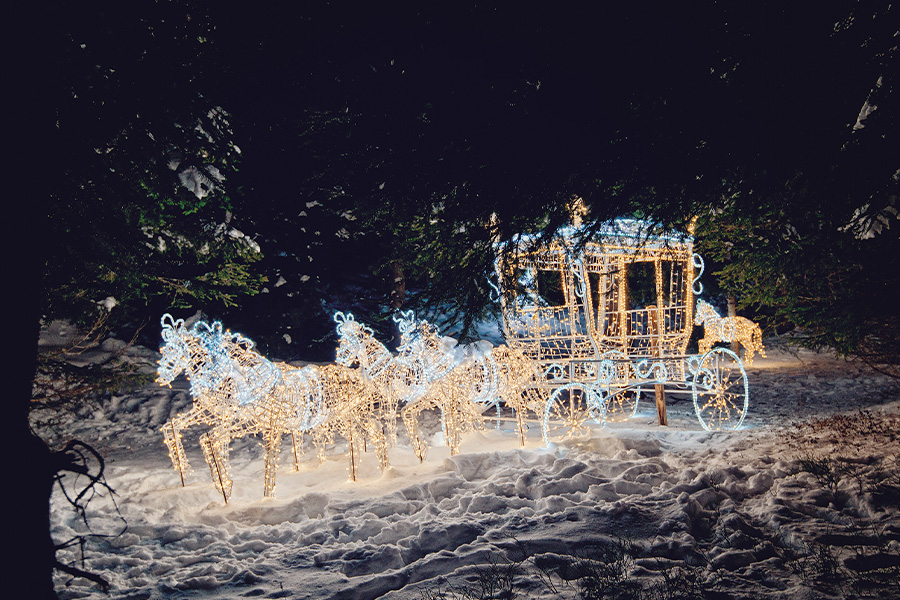 Visit the unique Advent Trail on the Katschberg
From 24 November to 23 December 2023 you can feel the Christmas magic on the "Katschberger Adventweg" on the following days:
Wednesday to Monday (between 24.11. and 23.12.2023)
As well as on Monday, 25.12.2023 from 14:00 to 19:00 p.m.
Stop by - it's worth a visit!
Christmas Time at Lake Millstatt
Visiting the Christmas market and enjoying the festive atmosphere in and around the Seeglück Hotel Forelle sounds like the perfect vacation for you? Then book now directly online or send us a non-binding request! Then book directly online now or send us a non-binding inquiry!